Work with us, together we can
Drive business through your door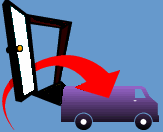 Our working background is IT communications, design, finance, purchasing, production, manufacturing, sales, contracts and marketing. Collectively we can help your business succeed in the rapidly developing age of the Internet.
Our business experience allows us to communicate and understand our clients individual needs whatever sector they are in.
Aj-creativedesigns is a Yorkshire based company and supports the development of local businesses.
We provide a wide range of Website design and programming services to: -
Individuals
Small Businesses
Medium Businesses
At aj-creativedesigns we understand the ever-increasing competition from larger corporations and try to keep the small and medium businesses up to date and even ahead of the larger competition.
You will find us very fair and understanding with your budget constraints along with your development needs.
We offer a professional, affordable design service based in Barnsley, South Yorkshire. We incorporate web sites, stationery, e-flyers, logo's, cd-business catalogues and management services.
Ultimately we do what we do because we love doing it!
We do not display a portfolio of our work, we strongly believe that no two pieces will ever be the same, however we will display our work during a free consultaiton. We do offer a full design package including maintenance and hosting for all your business needs as listed below:-
Web Design
Stationery Design
Logo Design
Flash Design
E-Design
Hosting
Maintenance
Management
Free Consultation